Amano Chocolate
Small-Batch, Artisan Chocolate
If you love foods that are made with a great level of care and dedication, you'll love Amano chocolates. These artisan chocolates are made by hand to deliver an incredibly rich, flavorful and fresh taste with every single bite. Based in Orem, Utah, this company was founded by Art Pollard and Clark Goble, two chocolatiers who have traveled around the world in search of the very best ingredients. Pollard and Goble only buy their cocoa directly from growers, and they visit the cocoa bean plantations in person to ensure they get the highest-quality products. Amano chocolates are made with cocoa beans from areas as diverse as the Dominican Republic, Ecuador, Venezuela, Madagascar and Papua New Guinea. 
Cuyagua Village 70% Dark Chocolate Bar
Signature Edition, Single-Origin Venezuela
Cuyagua is home to some of Venezuela's most highly prized cacao. Cuyagua's plantation is old — tracing its history back to the 1600's. Its trees are tall – many twice the height of that found on other plantations. Amano buy this special cocoa from Cuyagua's farmers, import it, and using their proprietary and labor intensive techniques transform them into a truly remarkable chocolate. The flavor can be described as being deep and hauntingly rich with wonderful fruit notes of melon and spice. This is an incredible chocolate – one you will treasure and share with your friends and loved ones (if you don't eat it first).
Dos Rios 70% Dark Chocolate Bar
Single-Origin: Dominican Republic
During travels to the Dominican Republic, Art discovered cocoa beans that naturally taste like bergamot, cinnamon, and clove. After developing special techniques specifically to preserve the delicate flavor of these beans, the secondary notes are perfectly encapsulated in this blend. Unique as is, this chocolate will amaze, astound, and fill your senses with the passion of chocolate, bergamot and spice.
Ocumare Village 70% Dark Chocolate Bar
Single-Origin: Venezuela
The Amano Ocumare Dark bar is uniquely great. The Ocumare region in Venezuela, from whose beans this bar is exclusively made from is known for its superior Criollo cacao. A rich chocolate taste, the Ocumare dark has hints of red fruit like plum and delicate flower and is made with traditional Amano machinery. These are some of the finest beans Amano has discovered and from which they have crafted chocolate they believe you will appreciate.
Sambirano Valley 70% Dark Chocolate Bar
Single-Origin: Madagascar
The Amano Madagascar chocolate is perhaps a bit untraditional with its strong fruity flavors that include hints of citrus and berry and shows the wide range of flavors possible in cocoa. It is absolutely delicious and one that you will remember for its incredible flavor. Madagascar has long been known for producing fine cocoa beans. The beans from Madagascar are primarily of the Trinitario and Criollo varieties. The soil and climate produce beans that are particularly fruity and our Madagascar bar is a fine example of this.
Guayas River Basin 70% Dark Chocolate Bar
Single-Origin: Ecuador
This award winning chocolate incorporates single origin beans from the Guayas River flood-plain in Ecuador. These Ecuadorian 'Arriba' beans have been famous for their fine flavor, which is rich & chocolatey, but also complex in its secondary flavor notes. This bar offers a rich chocolate flavor, with subtle notes of green banana, blackberry, smoke, cedar, & molasses.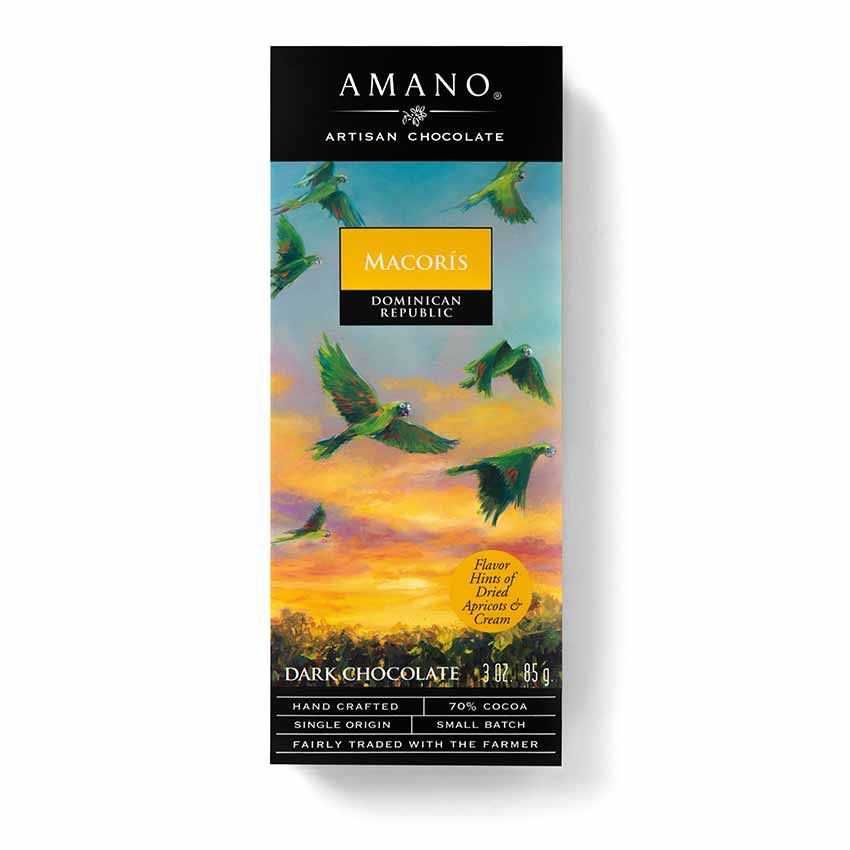 Macoris 70% Dark Chocolate Bar
Single-Origin: Dominican Republic
Amano incorporates cocoa beans from the Dominican Republic, of which they have restricted access to. This bar has subtle notes of mango, apricot, cranberries & cream which develop, and no surprise it has received numerous awards!
Because of this hard work and intensive research, the company is able to produce some of the most intensely flavorful chocolates you'll find anywhere. Each time you taste a bite of Amano chocolate, you'll feel instantly transported by the rich, aroma-filled flavors. And if you love to taste the subtle variations in flavor when sampling chocolates, you'll appreciate that each type of Amano chocolate is labeled according to where the cocoa beans were sourced. Simple bars of dark or milk chocolate are available from locations across the globe. While one might have notes of banana or blackberry, another may have hints of lime, leather or even smoke. Those subtle complexities make the chocolate-tasting experience quite the thrill for both chocolate aficionados and those who simply have a sweet tooth.
If you're wondering where to buy Amano chocolate, you've come to the right place. At World Wide Chocolate, we offer a wide variety of Amano chocolate products at affordable prices. Pick up a few bars for yourself, or purchase some samples to give as a gift for a loved one for a special occasion.